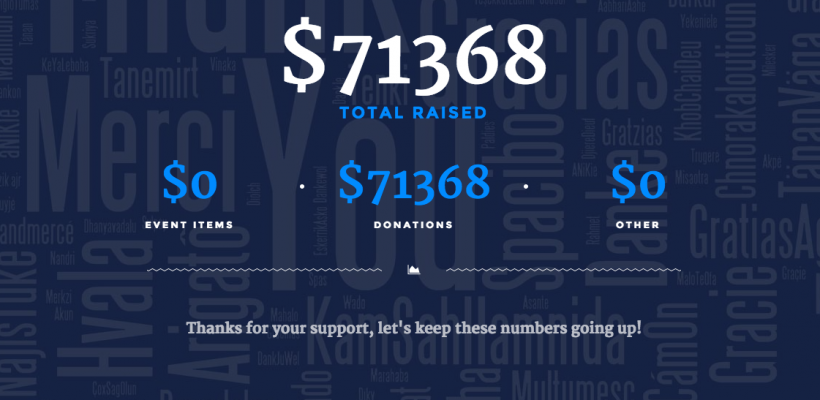 Bidr headquarters are located in Charleston, South Carolina.  As much of the country has now learned, a horrific event happened in our city last week taking the lives of 9 very precious individuals while they were attending a Bible study at Mother Emmanuel AME church in downtown Charleston.  As a company and as Charleston residents, our heart breaks for the church and the families of the victims.
After the event, there were immediate requests by people wishing to make donations to the families of Emmanuel AME.  The City of Charleston set up a fund and asked Bidr to help provide an easy way for people around the country to submit a donation electronically.  Bidr focuses on making it simple for individuals supporting nonprofits, organizations and causes to give both large and small amounts – all via text messaging.
An appropriate key word and campaign identifier was decided upon, primarily from what was already trending on social media AND what felt like an fitting term for such a tragic event.  In less than an hour, the following instructions were displayed on the City of Charleston website and distributed to all media outlets:
To donate to the Mother Emmanuel Hope Fund, go to:
bidr.co/prayforcharleston
or text prayforcharleston to 843-606-5995.
The link takes visitors directly to a page detailing information about the fund and asking for a mobile number in order to donate.
Next, donors receive an immediate text message asking for their first and last name.  Once provided, they are welcomed to the campaign and prompted to register their payment information by following a link that Bidr provides in the text message.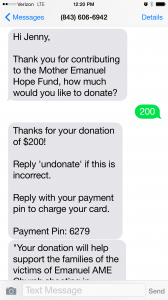 After providing payment information, the donor receives a text confirmation that their payment information has been registered and is then asked to specify a donation amount.  In order to securely protect the donors card info and prevent others from using donor cell phone numbers to make donations, Bidr then asks that the donor reply back with a secure payment pin.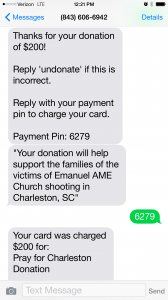 Since the donor entered their email address as part of the payment process, they are then emailed an immediate receipt for the donation.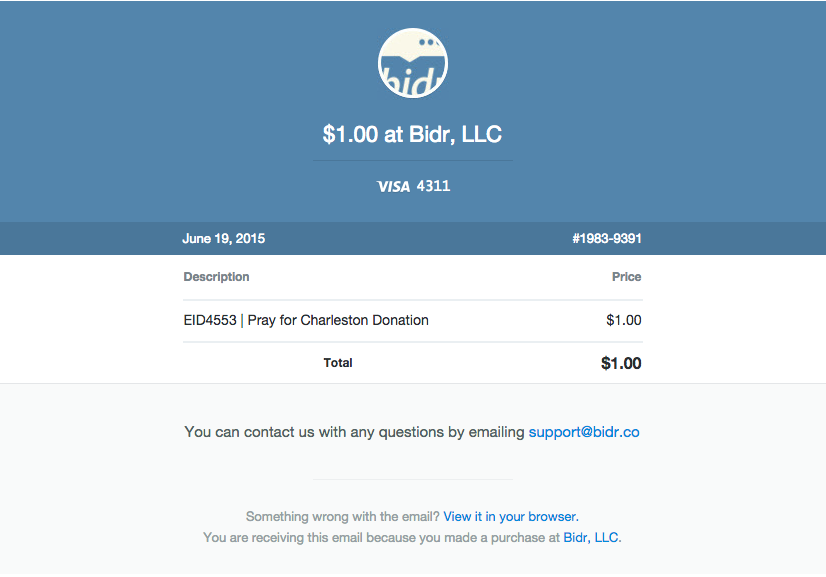 A text to donate campaign like this one makes it simple for people to support your organization, right from their phone.  The instructions are easy to display on your website, promotional materials and social media accounts.
If you are hosting an event, Bidr text to donate is an ideal way to capture event donations.  For events, Bidr even provides you with digital signage (a URL that you can display on projection screens or flat screen televisions) that displays the real time analytic.  And, when someone makes a donation, we give them a shout out on the screen – without revealing their donation amount.  "Thanks Sam! We appreciate your support!"  Donations are always a sacrifice for people, so having unique ways to recognize them and show that you care is crucial to maintaining good donor relationships.
Micro-donations can be extremely powerful if you make it incredibly easy for people to give.  If you want to test Bidr Text to Donate, feel free to make a donation to the families of Emmanuel AME church by following the instructions at the top of this entry.  If you have an event, nonprofit or organization that could benefit from a Text to Donate campaign, reach out to us directly at info@bidr.co