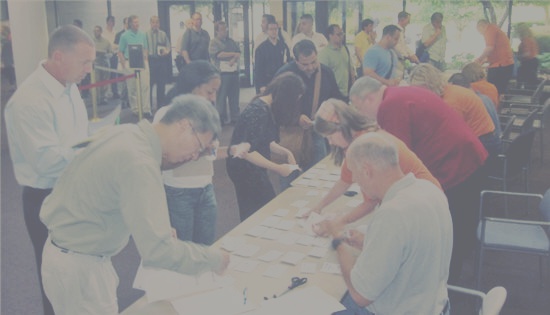 Bidr is on a quest.  Our daily goal is to provide unique and efficient ways to speed up the amount of time it takes to get an attendee into an event.  Our philosophy is simple: the sooner they can get in, the more opportunities they will have to get connected with your cause and GIVE.
So let's get to it.  In silent auctions of the past (and even with other mobile bidding platforms) attendees have a LONG list of things to do at event check in.  They may have to show their ticket, get a bidder number, swipe their credit card, find out their table assignment.  The list goes on!   This makes for an extremely cumbersome process!
Why not treat every attendee like they are a VIP?  Here's how we make check-in a blip on the attendee radar:
–TICKETS: When attendees purchase a ticket through Bidr, they can either show the confirmation that we texted to them when they bought their ticket on the Event Preview Site OR they simply give their name to the check-in representative.  Our check-in screen is simple and quick.  There's no need for them to filter through a paper list OR navigate through a complicated software program.
–AUCTION: As soon as the checkin representative hits the redeem ticket button, the attendee gets a text notification welcoming them to the auction and encouraging them to start BIDDING and GIVING.  Thus, you have eliminated the need for assigning a bidder number OR providing detailed instructions.
–PAYMENT: And, since they have already bought a ticket OR pre-registered their card info, they don't have to worry about swiping their credit card on the way in!
The attendee gets to go directly into the event without skipping a beat!!