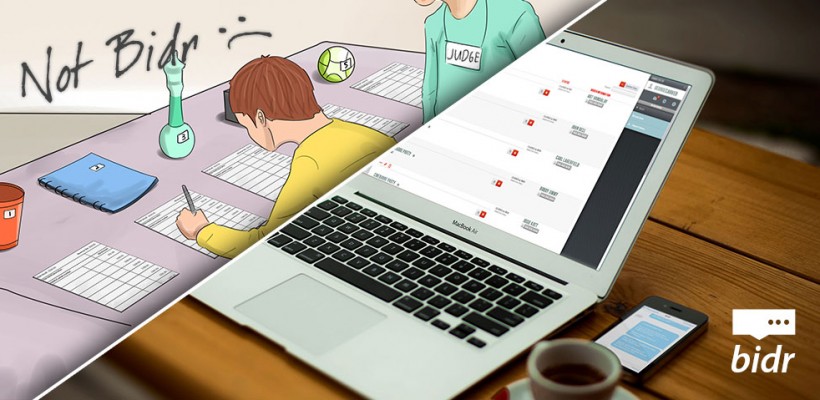 Here's the thing, after going to so many silent auction events we knew there had to be a better way to do it.  I mean, we're all carrying around pretty sophisticated mobile devices.  We thought to ourselves, "Why can't we use the power of that technology to make the bidding process more fluid AND completely paperless?"
So, we used the function that we believe cell phone users are most familiar with: texting.  The Bidr platform is designed to let attendees text their bid for auction items. This eliminates the need for cumbersome bid sheets in front of each item AND automatically notifies the bidder when they have been outbid.  Pretty smart right?  Yeah, we think so too.
Why can't we use the power of that technology to make the bidding process more fluid AND completely paperless?
If you peruse our site you'll learn a lot more about Bidr, but we would like to start by offering an alternative to a very informative post about how to run a silent auction that we found on WikiHow.  Here's a link to the article: 
https://www.wikihow.com/Run-a-Silent-Auction
We'll address a few of the steps in this first blog entry.
STEP 1: MAKE A MASTER LIST  [you can cross this one off the list] Wiki suggests you do this so that you can keep track of items and match them up with the winning bidders.  With Bidr, you can upload all your items to your custom auction dashboard on the Bidr website.  As attendees text in their bids, our system keeps up with it automatically.  The winning bidder's contact info is kept in the dashboard so that they can be quickly contacted.  And, we save your account so that we next year comes around you will be able to see which items were the most popular AND which ones that didn't perform as well.
STEP 3: PRINT BIDDING SHEETS [oh yeah, definitely get rid of this one] Those stacks of bid sheets are a thing of the past.  Since everyone will be texting in their bids, they don't have to lean over to write down the name and bid.  And remember table stalking?  No more lingering around the tables with the most coveted items.  When you have been outbid, you will receive a text notification.  This way, you can make a quick bid and go back to enjoying the party!
STEP 4: MAKE A LIST OF SUPPLIES YOU MIGHT NEED [scale this one back] Well, you're definitely not going to need white out.  The great thing about the Bidr system is that you can automatically print out any printed items you need from our auction dashboard.  The only thing that needs to appear next to the item is an item number, so that attendees know what item number to text when they are bidding.  No need for pens, clipboards or big rolls of tape.
Here are some other great tips from Wild Apricot as well https://www.wildapricot.com/articles/silent-auctions-simplified.
We'll look forward to telling you more about the way Bidr attacks the rest of these steps.   In the meantime, take a look around our site and set up your account for FREE.  We can't wait to help you raise more money for your cause.