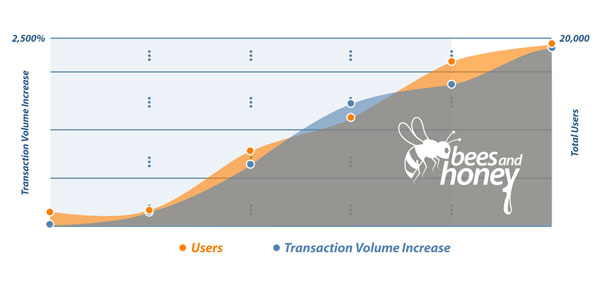 Bidr closes 2015 with nearly 16,000 users and 1900% increase in Event Revenue!
As we get close to rounding out 2015 we are so thankful for everyone who has created Bidr events and Text.Gives campaigns.  We love helping raise money for cool causes!
Our company got its start when our founders were involved in planning their children's school auction and KNEW there was a better way.  Sure enough they ditched the paper bid sheets, used text to bid, and raised WAY more money than the event ever had…hence Bidr was born.
Since then, Bidr has grown to nearly 16,000 users and has gone from simply hosting silent auctions to offering interactive ticketing, raffles, and text to donate campaigns.  We've won several contests, awards, and even got invited to the White House!
But we're not resting on our laurels!  Everyday we're coming up with bigger and better ways to make Bidr even more amazing.
…did you know:

– We identify your users by their cell phone number…users type it in once and we remember it forever.

– Our new interactive ticketing sends users a PDF ticket to print or a digital ticket via text.  You simply scan them in using your own mobile device and they're automatically joined to your event.

– Save a tree and sell digital raffle tickets!  You can create a unique event for your raffle or sell raffle tickets at any event you host.  Our system even picks the winner for you and notifies them via text.

– Create a Text.Gives campaign to allow donors to easily donate to your organization year round or for a specific need.  Pick a keyword and you'll have your site set up within minutes.  Supporters text you their donation and you can finally stop waiting for that check in the mail!

We can't wait to help raise even more money in 2016!